North-Line 37 Update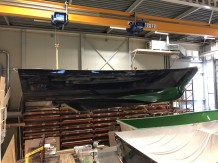 Hull North-Line 37 "Freedom" ready
The hull of the North-Line 37 "Freedom" has been released from the mold. The result is a strong, light and dark blue hull.
What preceded this?
A release agent / wax (2) is applied in the hull mold (1). After the release agent has hardened, the gelcoat (3) is applied. This gelcoat is the layer in the laminate that is visible on the biopsy side of the hull. Here is chosen for a dark blue color.
Subsequently, the fabric mats (6) are soaked in the resin (4). With a roller (5) the air is pushed out of the tissue cloth mats. To obtain sufficient stiffness, several layers of fabric mats can be applied. After the resin has been reacted out, the laminate is removed from the mold.