Update : Boat Holland 2021 cancelled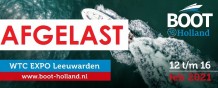 This water sports fair will also not take place due to Corona
Based on the current COVID-19 developments, the organizers of Boot Holland 2021 have, to their great regret, had to decide to cancel Boot Holland 2021. This cancellation is due to the continuing uncertainty and the constant threat of measures aimed at containing the persistent Corona virus.
Safety comes first
"A visit to Boot Holland must be safe and responsible. The circumstances surrounding Corona are constantly changing, which means a lot of uncertainty. As a result, we cannot guarantee that Boot Holland can take place in a responsible manner in February 2021," said the response from the organizers.
Save the date! Boat Holland 2022 from 9 to 13 March
We are really looking forward to it! So mark Wednesday 9 to Sunday 13 March 2022 in your agenda!